BASX Solutions applies its philosophy of combining the fundamentals of design with innovative approaches, solutions and technologies into designing a Custom Commercial HVAC Solution for your mission critical application. Each product offering differentiates itself from the current industry standard. Using pre-packaged units can result in performance gaps when critical needs are not addressed.
The BASX Custom AHU Advantage
All welded, heavy-duty structural channel iron frame with lifting brackets
Anti-microbial/anti-corrosive construction
Foam panel, hybrid foam panel and fiberglass insulation
Thermal break technology
Optional fan types, styles, and discharge arrangements
Variable Frequency Drives (VFDs)
Energy recovery ventilation: wheels, plate, and heat pipe technology
Chilled water, DX and direct or indirect evaporative cooling options
Hot water, steam, direct or indirect gas, and electric resistance heating options
Pre-filters, high efficiency, HEPA/ULPA, odor control media filter options
Modular construction
Air monitoring devices
Smooth interior or exterior
Large access panel doors
Anti-skid and diamond-plate floors
Powder coat finish to your specifications
UV lights
Service vestibules
Power panels
Unit controls
Interior lights and receptacles
Dampers, louvers, and hoods
Viewing ports
Air blenders
Humidifiers
Indoor or outdoor cabinet construction
Steel, aluminum or stainless steel cabinet
Factory roof curb
Standard and severe duty components
Pitched stainless steel drain pans
Custom Air Handling Units
Direct Evaporative Cooling Units
Packaged DX Air Handling Units
Vertical Self-Contained Cooling
Industries and Applications
Airports
Commercial
Educational
Government & Military
Industrial
Institutional HVAC
Universities
Hospitals & Surgical Suites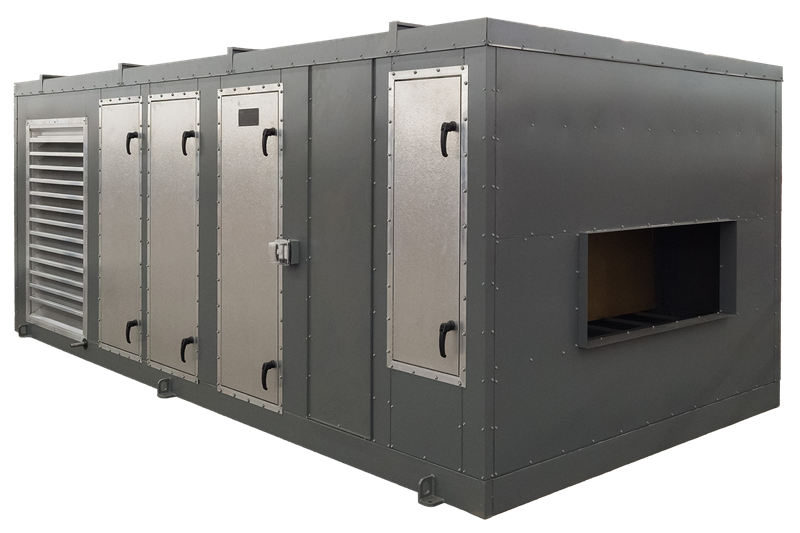 Custom Air Handling Units, 5,000-100,000+ CFM
With a wealth of experience BASX Solutions provides design solutions to meet and exceed your Custom Air Handling Unit requirements. As a custom provider of air handling equipment we take pride in our ability to find efficient solutions to unique requirements prevalent in today's market place. Footprint, performance, and energy efficiency are all part of the custom unit design equation, all of which is the basis for our approach to your equipment needs.
Click to Learn More
Indoor and Outdoor Applications
Curb, slab, suspended, or platform capable structure
Powder coated or galvanized finish options
No CFM limitations
Panelized construction both seams turned inward and turned outward depending on the application for water and condensation migration control.
Wash down construction options
Materials of construction can include aluminum, steel, and stainless steel
Multiple panel thicknesses available to meet R-Value insulation requirements
3D Revit models of your specific equipment available
Hydronic, gas fired, and steal heating options available
Antimicrobial finish options for pharmaceutical and healthcare environments.