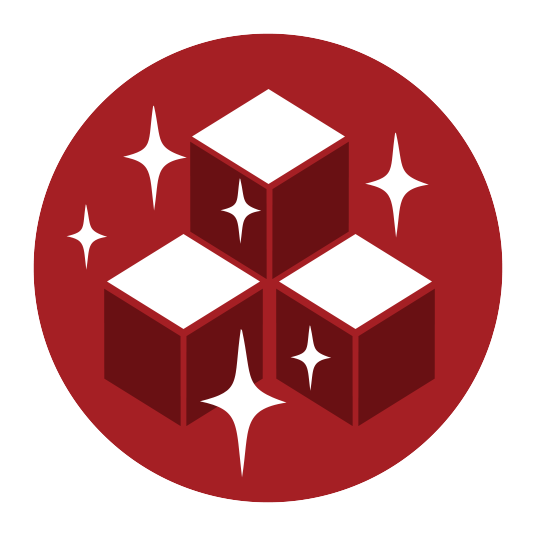 BASX Solutions can provide pre-engineered or custom designed cleanroom components to fit your specifications. By using a single source we are able to ensure that all components are fabricated in a quality controlled factory environment. BASX Solutions is a recognized leader in the cleanroom environment.
UL Listed 20 amp duplex outlets and switches are available in standard frames and door jambs. Stacked duplex switches are also available for applications where a greater level of light control is necessary. Due to the modular nature of the harness system, you can reconfigure which lights are controlled by each switch and adding more lights is a snap.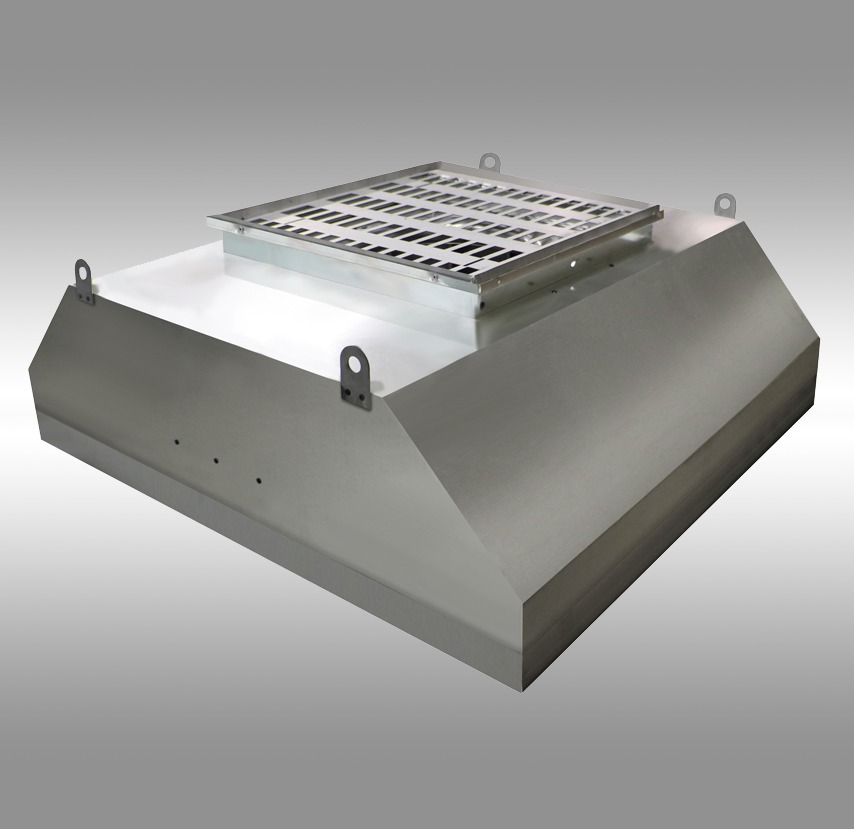 BMC offers a full line of Fan Filter Units that provide high efficiency air filtration with low energy consumption, low heat generation and low sound levels. FFU's are available with HEPA or ULPA filters, and 120v & 277v units are standard, but we can build them to meet practically any electrical requirement. Features include energy consumption of 190 watts, low sound level of 53dba @ 90 FPM face velocity (as tested in an acoustical laboratory).
Minimum filter efficiency is 99.99% at 0.3 microns (HEPA), and maximum filter efficiency is 99.99995% at .12 microns (ULPA). Option available for Fan Filter control controls and monitoring ideal for any cleanroom environments. Option also available for Room Side Replaceable filters allowing replacement of the filter without removing the fan unit from the ceiling grid.
2x4 LED Light Fixture – UL Listed, features 2' x 4' Perimeter Lit, Flush lense. Comes with universal ballasts for a wide range of electrical options, highly efficient fixtures, dimmable. Optional Emergency Battery Packs and various lighting controls.
2x4 Flow-Through Troffer Light Fixture – Used for full coverage ceilings, HEPA mounts above the light. Available in 120v or 277v, UL listed and features an energy saving ballast.
Teardrop Light Fixture – Comes in 3', 4', or 8' white powder coated 20 gauge steel fixture. UL listed as a unit, can be mounted in continuous rows, low-brightness lens, 120v or 277v, 60Hz, 32W with 0.28Amp draw.
Ceiling Tiles – All ceiling tiles are fire retardant up to flame spread 5, smoke developed 0, and the 2' x 4' heavy reinforced fiber gypsum core meets cleanroom standards. Prefinished vinyl face tiles are sealed and durable to withstand frequent cleaning with mild solvents.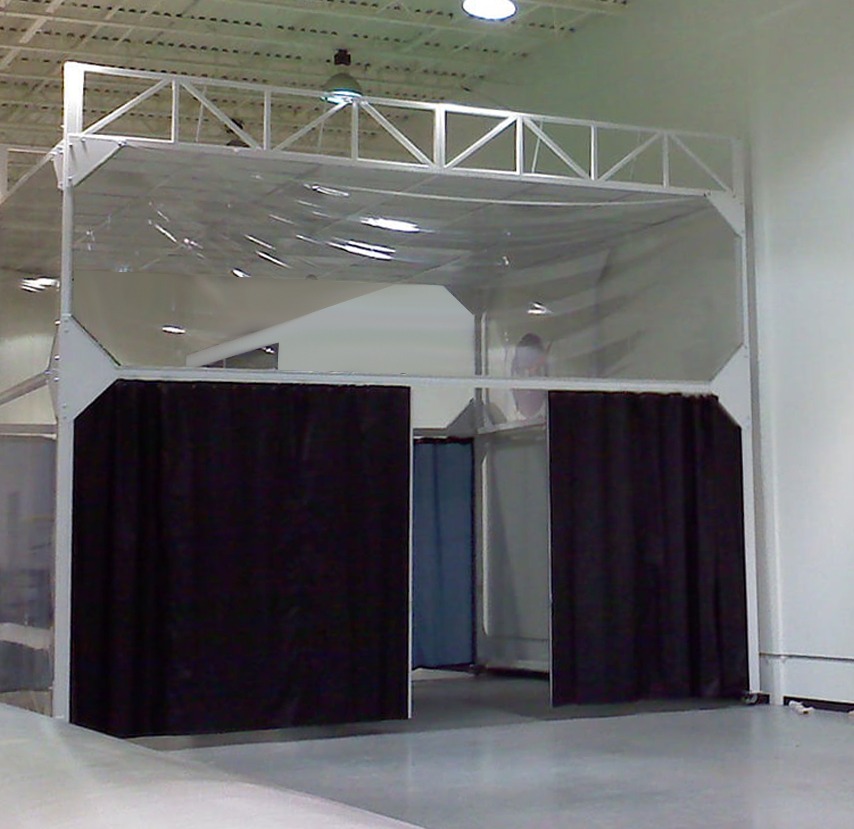 From laminar airflow shields, to room dividers, to access strips, BMC plastic systems will meet a variety of needs to limit traffic, control airflow, and/or minimize electrostatic discharge. Easy to install, they maintain clarity over extended periods of time. All of our plastic materials are double polished, flame retardant, and provide static dissipation without outgassing.
Heavy Gauge Access Strips – Custom-made to fit any height or width of your area to reduce air loss in doorways and other openings and allow you to maintain different degrees of air cleanliness within the same area.
Stretch Panels – Constructed with sturdy gauge flexible material, and custom made to fit your needs. Able to be cut in square, or custom shapes, and to negotiate pipes or other types of obstacles. Corresponding Uni-Lock™ attachment strips are bonded along all four edges of the plastic sheet, or as appropriate for your application, and are included for installation at your location.
BMC walls are constructed with tubular steel and finished with a powder coating that withstands frequent and stringent cleansings.
Full panels are offered with the CleanSeal panel insert fastening system that mounts flush to the steel frame to create a "ledge-less" room interior. The result is an easy-to-clean room with reduced bio-burden and a positive seal to protect your process form particulates.
The unique BASX Modular Cleanroom ceiling system consists of welded 11 gauge (1/8" thick) steel for structural integrity and superior seismic strength. It is load bearing, walkable (upon request) and can span up to 16' between walls and/or trusses without additional downposts. The all-welded modules can be designed to support a 250 pound point load in addition to the weight of the drop-in components to allow for easy maintenance of lights, filters, tiles, etc. The system's convenient design allows for easy modular cleanroom expansion and relocation.
Each of the approximately 2'x4' ceiling openings features factory-affixed non-memory closed-cell gasketing which, along with our all-welded construction, provides a tight seal and superior protection against leaks using standard 2'x4' drop-in components.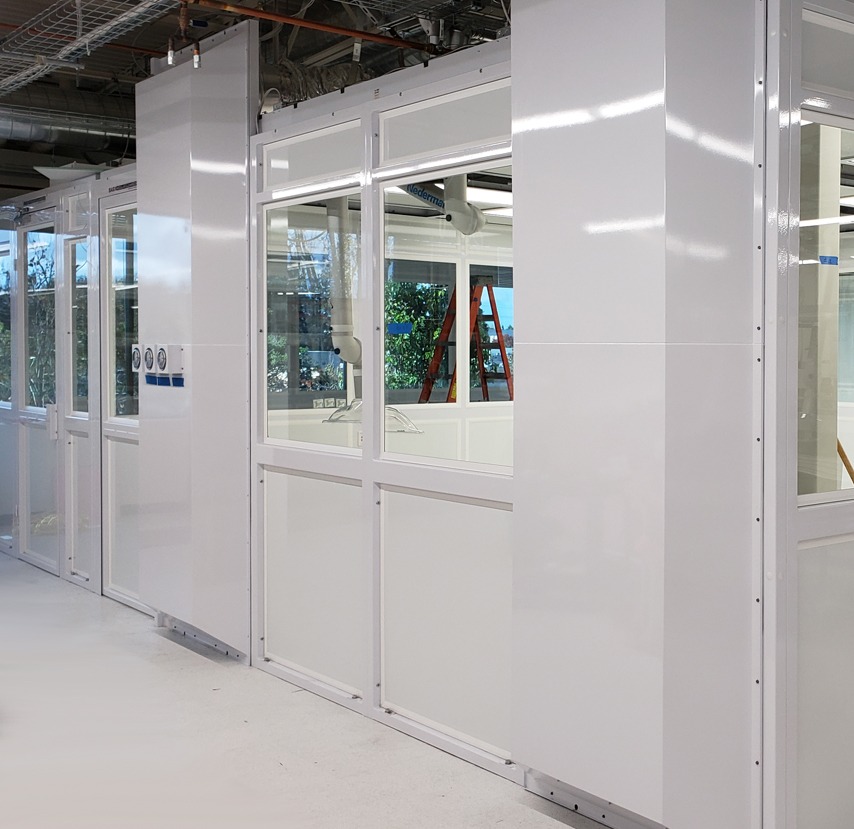 All BMC doors and hardware are pre-engineered for optimal compatibility with our frames. Doors are available in a variety of insert materials and heights to meet standard room dimensions.
Doors and jambs are welded using heavy-gauge cold-rolled tubular steel. Each is then polyurethane powder-coated and baked, resulting in a durable chip-resistant finish that withstands frequent cleansing and resists particulate contamination.
The swing doors fit easily into the jambs, which in turn bolt to other BMC frames using barrel-nuts that act to tighten the seal with each turn. BMC door jambs are factory gasketed and designed to correspond to modular room dimensions. Automatic Sliding Doors mount in U-Frames which are sized to match the required clear opening of the door.
BASX Modular Cleanrooms offers a complete selection of standard and custom sized HEPA, ULPA and pre-filters to meet your life-cycle filter replacement requirements. We are your source for the exact size, shape and efficiency of the filters required for your specific BMC unit and can provide rapid turnaround to meet urgent requirements. Contact your BMC sales representative for more information.