BASX Solutions - An Industry Leader
BASX Solutions is an industry leader in the manufacturing of high efficiency data center cooling solutions, cleanroom systems, custom HVAC systems and modular solutions. For the past 40 years, the BASX leadership team has been recognized as leaders in the development of industry-changing innovation and are widely recognized for changing the way fans are applied in modern air handling systems. Our team has a steadfast commitment to customer service and delivering on our promises while providing the highest quality products throughout the world. BASX Solutions is headquarters in Redmond, OR with over 130,000 sf of manufacturing and warehousing space and 10,000 sf of R&D space with approximately 15 acres.
In July of 2020 BASX Solutions broke ground on a 75,000 square foot high-bay manufacturing expansion at its headquarters in Redmond, OR. This expansion project will allow for a consolidation of operations and a substantial increase in manufacturing capacity. Additionally, the added building space will allow for the installation of several new pieces of automated machinery to further enhance manufacturing efficiency. When complete, BASX Solutions will have approximately 200,000 square feet of manufacturing space at its Redmond facility.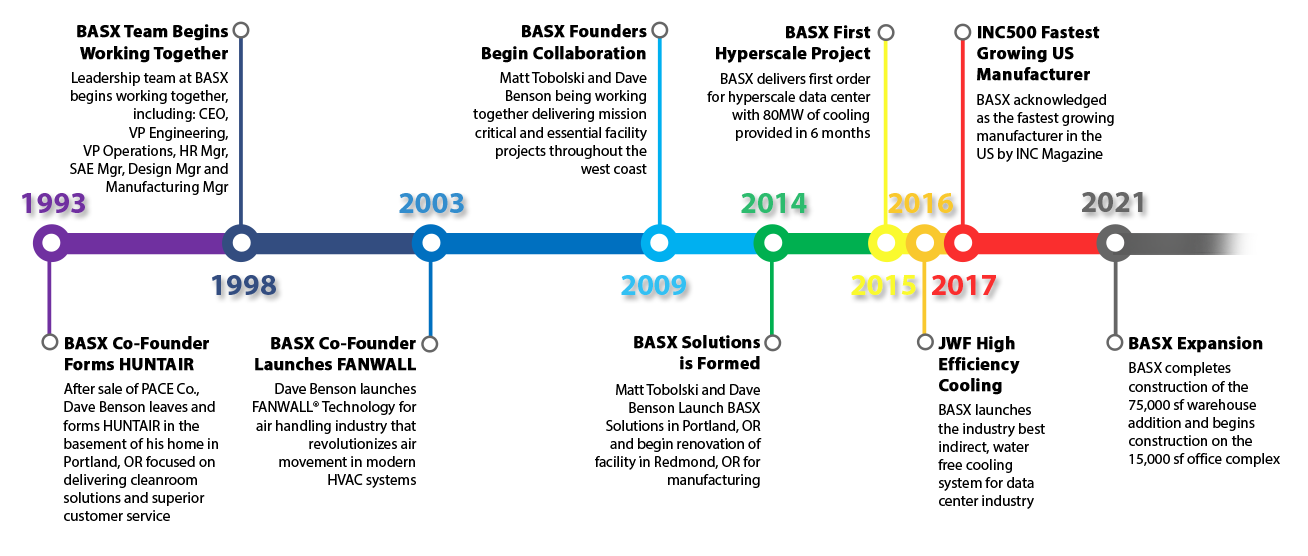 Much of today's modern business world has become mired in political correctness, codes, conduct, systems and restrictions. Many businesses have neglected the basic principles of any successful business:
People
Product
Pride
Perseverance
BASX is derived from the concept of "Back to the Basics" with principals remaining true to their core values and the fundamental aspects of product development, design and manufacturing while always innovating the approach, applications and methods to create better solutions to meet the industry's evolving requirements and needs.
Headquartered in beautiful Central Oregon, BASX Solutions was co-founded by Chairman Dave Benson and President Matthew Tobolski, PhD, SE. Click below to learn more about our Leadership Team.