BASX Custom Cleanrooms stand out as the most structurally rigid available anywhere in the industry. Formed from cold-rolled tubular steel, each frame is incredibly robust and highly durable. When combined with any of the available flexible PVC side panels and our exclusive UniGrid ceiling system, the result is a room which can be seismically rated and will endure punishment from outside and within. Together with any of the available Hardwall and/or PVC inset panels and our exclusive ceiling system, the frames compose a room which can be seismically rated and will endure punishment from outside and within.
Meet with a BasX Engineer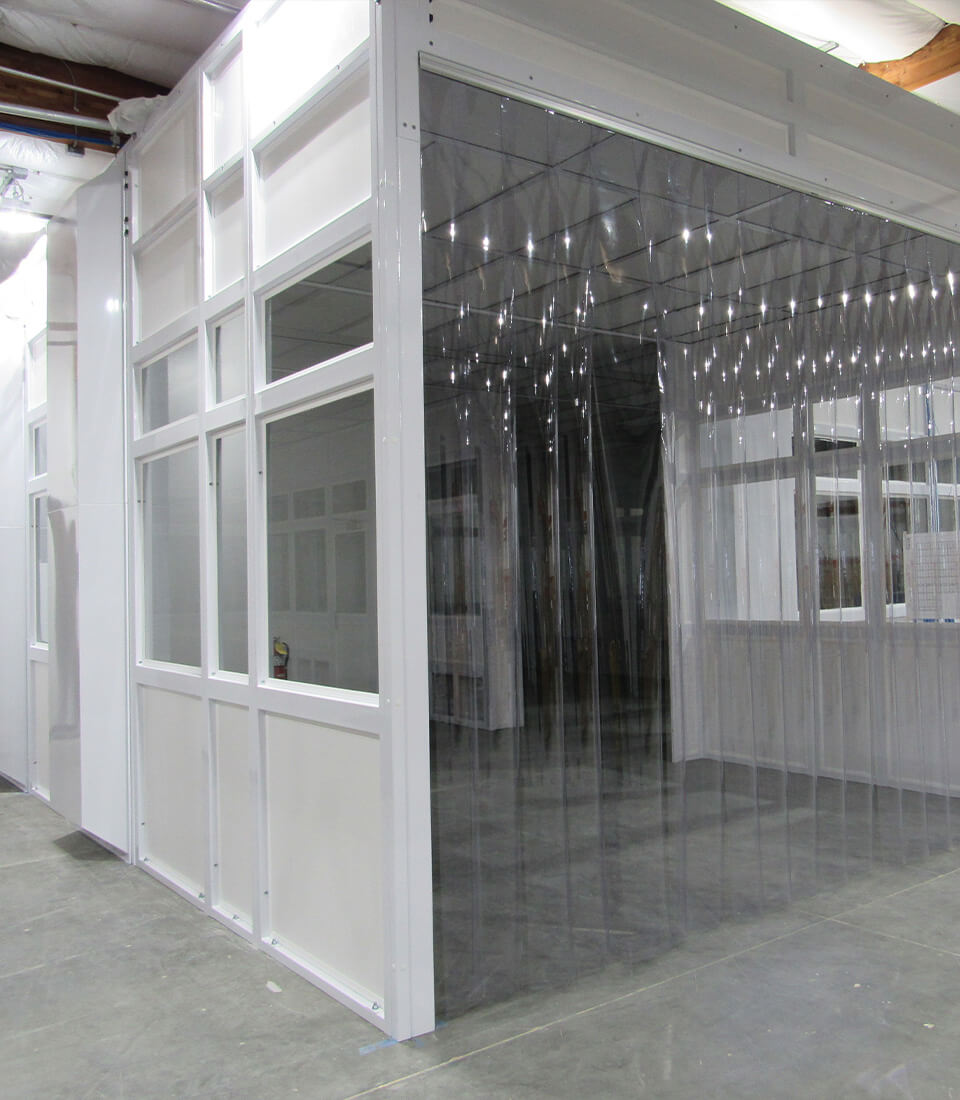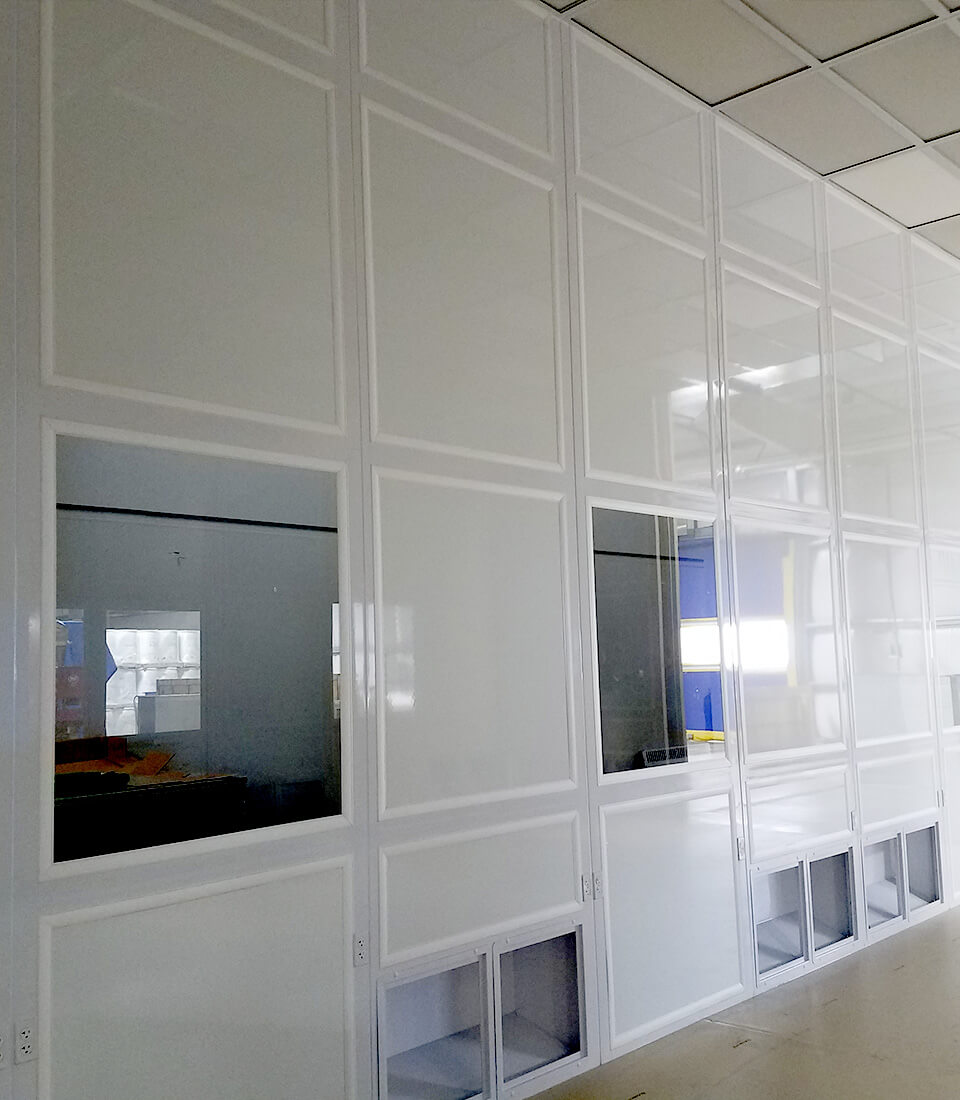 Cleanliness and Durability
All BMC frames and ceiling grids are powder coated with a polyurethane material then baked at 450 degrees to ensure truly non-outgassing components. Unlike epoxy, which is an outgassing product, or unbaked powder coatings, the BMC process provides an extremely hard-shell finish that will withstand frequent cleansing and will not contaminate your process. The result is a beautiful, consistent finish on a cleanroom that looks simple while meeting your detailed requirements.
Design Your Modular Cleanroom
Unique and Intelligent Design
BMC's exclusive Uni-Grid ceiling system is fully welded to form a structurally superior and unified ceiling grid. It is then powder-coated and fitted with closed-cell gasketing that creates a tight seal with all drop-in components. Each fully loaded Uni-Grid is self-supporting and can be designed to be completely walkable with a 250 lb point load, allowing for simple exchange of the 2'x4' lights, tiles and Fan Filter Units.
Get a Project Quote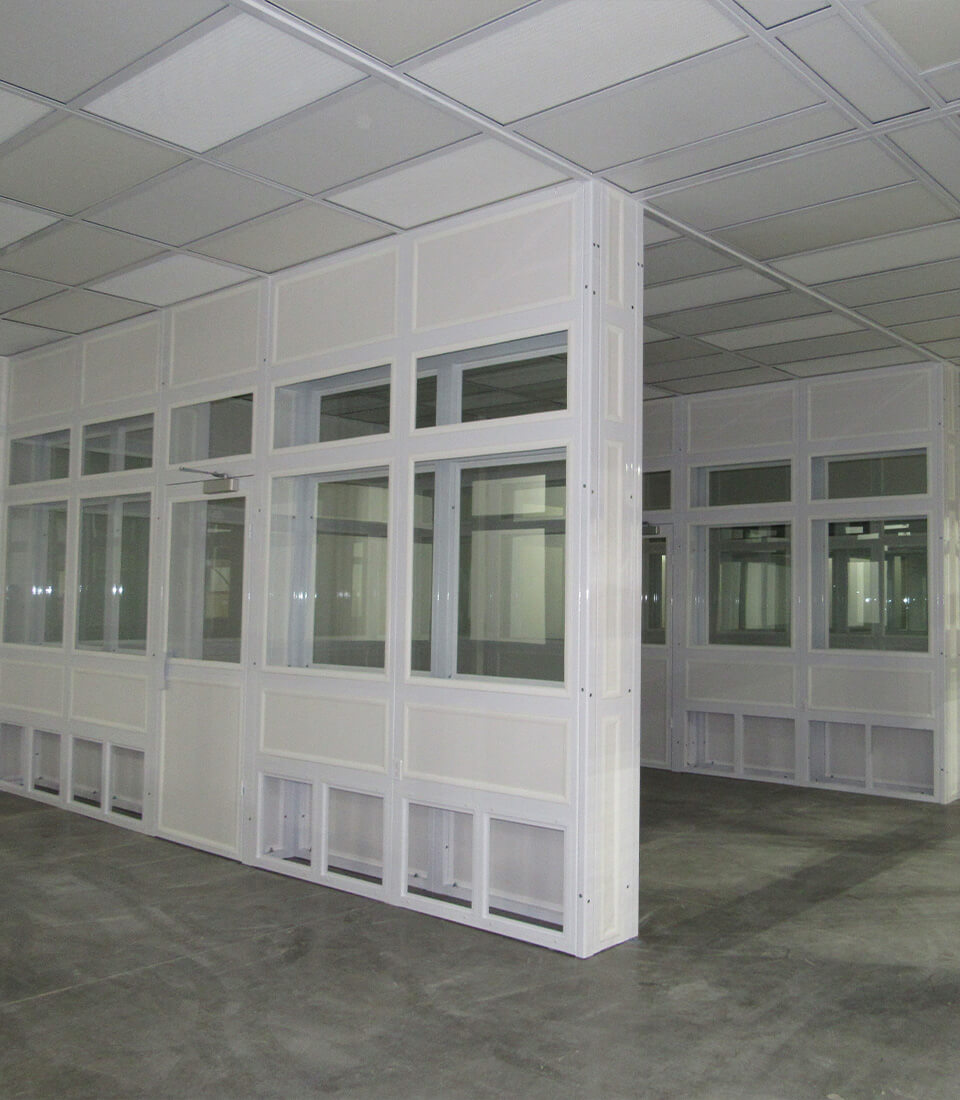 Industries and Applications
Semiconductor
Microelectronics
Pharmaceutical
Biomedical
Medical Device
Injection Molding
Photonics
Research & Development
Automotive
Aerospace
Containment Suites
Food Grade Packaging
Size

Innumerable configurations, in standard increments of 2' with custom sizing available depending on the panels used in any given portion, unsupported spans up to 50' with Truss System

Class

Federal Standard 209e Class 100,000 to Class 10 and ISO Standards compatible.

Filtration

2'x4' HEPA or ULPA Fan Filter Units. Various Controls Systems Available.

Ceiling

Uni-Grid ceiling system: 1/8" thick steel, all-welded construction, fitted with closed-cell gasketing.
Support Posts

Welded 3"x3"x.120" heavy gauge cold-rolled tubular steel

Corner Plates

1/4" heavy gauge steel, drilled using CNC Mill

Finish

White baked polyurethane powder coating.

Access Strips and Side Panels

Side Panels: 16 mil clear flexible PVC standard
Access Strips: 8"x80 mil PVC