HepaStation Laminar Flow Work Bench
Unique and Intelligent Design
BasX Solutions' HepaStation is a portable clean environment that allows individuals to work in a contamination controlled Class 100 environment. HepaStations can easily be placed within an existing cleanroom to isolate processes, or act as standalone workstations in unregulated environments. Designed for use with your own table, or with one of our optional built-in Stainless Steel tabletops.
Can also be used as a Class 100 Clean Air Garment Enclosure (C.A.G.E.) to extend the life of your cleanroom garments. The HEPA filter placed atop the unit bathes your cleanroom suits and smocks with 14 air changes per minute, which protects them from contamination when not in use. Offered with 12 or 24 captive hangers with spacers.
Get a Project Quote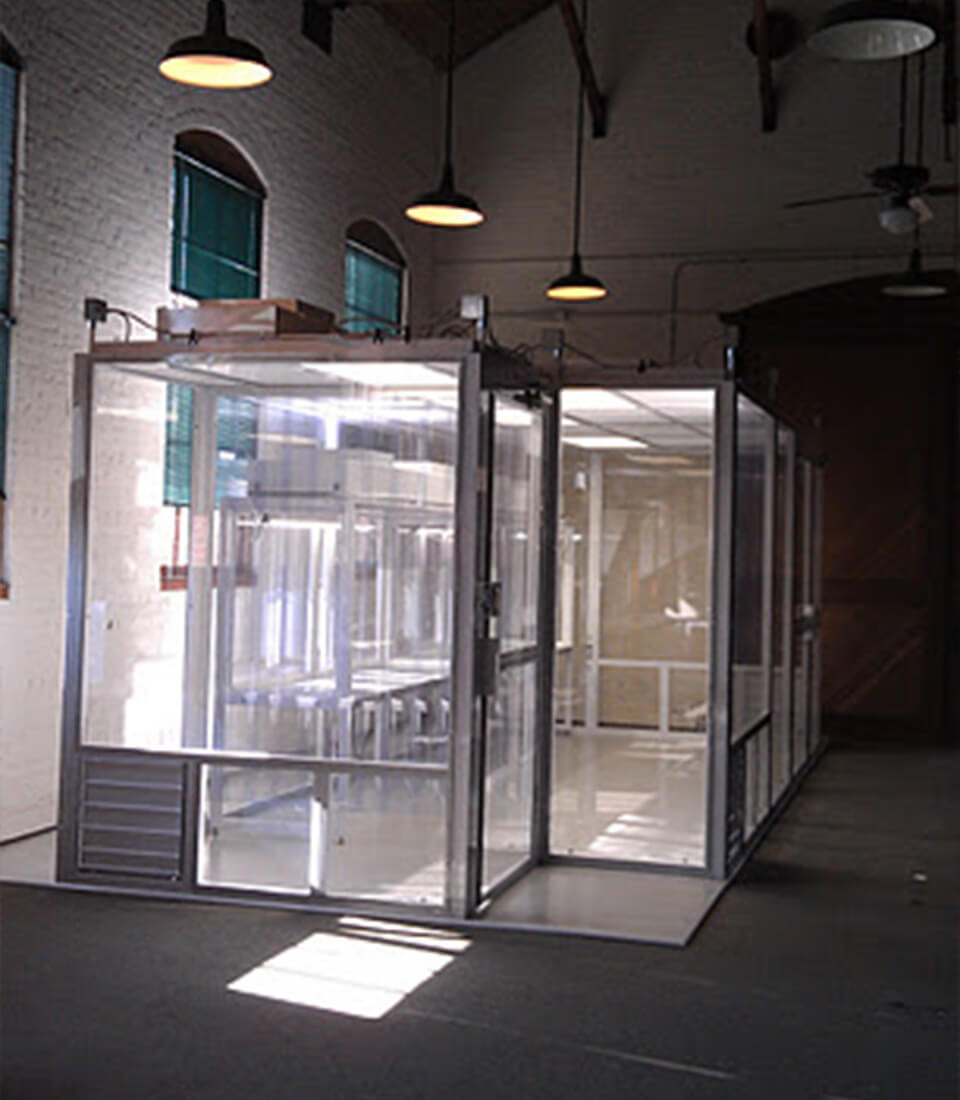 The HepaStation is composed of four frames (top, back, left side, right side), each of which is constructed of 2"x2"x.083" cold-rolled steel tube. Each frame is welded, powder coated with polyurethane, and then baked at 450 degrees. The frames are bolted together using heavy duty barrel nuts for a tight seal. The result is a highly rigid framework with a non-contaminating, non-particulating and chip-resistant surface.
The work area is enclosed with 1/4" thick, clear acrylic panels on the back and sides of the unit. The acrylic is secured using our CleanSeal attachment system for a tight seal. A 14" heavy gauge flexible PVC shield hangs from the front of the unit, directing airflow above the work surface.
Meet with a BasX Engineer
Units include necessary HEPA Fan Filter Units (1 each for 4' unit and 2 each for 8' unit) and cleanroom safe teardrop lighting. Each plugs into UL listed 20 amp switch controlled by outlets housed in the frame. One outlet is left available (approx. 17.6 Amps free once running) inside the work area and one outside for powering other pieces of equipment. The power switches control the fan/s and light separately, and are located on the top, front portion of the unit.
Design Your Modular Cleanroom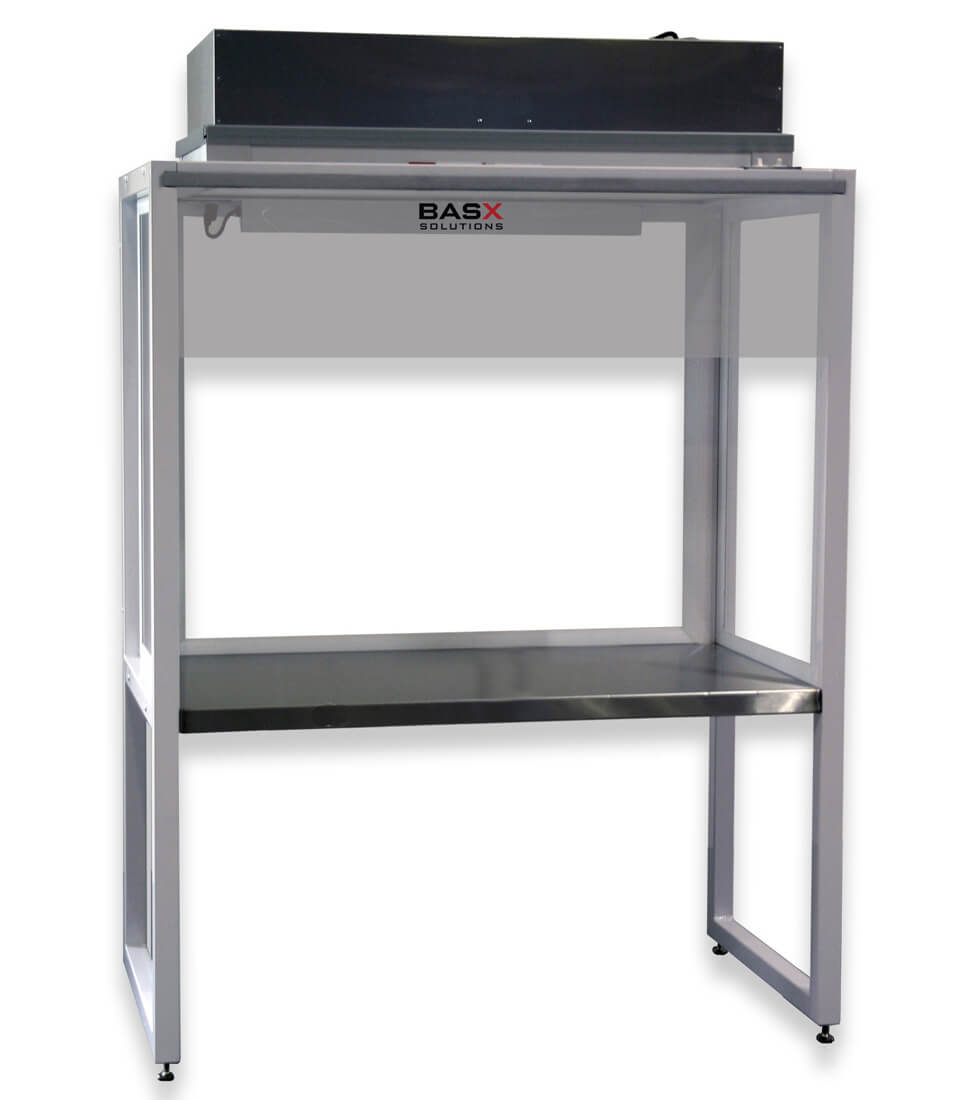 Industries and Applications
Research & Development
Laboratories
Semiconductor
Microelectronics
Pharmaceutical
Biomedical
Medical Device
Injection Molding
Photonics
Automotive
Aerospace
Containment Suites
Food Grade Packaging
Though adjustable leveling feet are standard, convenient 4" Cleanroom locking-type casters are available for both units. Additionally, you may choose to purchase one of two built-in tabletops; solid 14 gauge 304 stainless steel or perforated 14 gauge 304 stainless steel.
Dimensions

Interior (workspace) dimensions: width and depth as shown in diagrams; top of bench is 29.5" off floor
External dimensions: width and depth as shown in diagrams; total height is 83.38" with FFU & Pre-filter

Weight

2x4: Approx. 250 lbs with SS tabletop
2x8: Approx. 430 lbs with SS tabletop

Framework

2x2: heavy gauge tubular steel, 0.083" thickness, cold-rolled
Four bolt-together welded frames

Finish

White baked polyurethane powder coatin
Inset Panels

1/4" thick clear acrylic-standard, held in place using 2-part extruded PVC CleanSeal attachment system

Plastic Shield

60 mil heavy-gauge clear flexible PVC, mounted using UniLock non-particulating attachment strip

Fan Filter Unit (HEPA)

99.99% efficient on 0.3 micron particles, with solid state variable speed control for air velocity from 70 to 120 fpm (feet per minute) and a sound level of approximately 53 dbA measured 30" from the filter face

Electrical

Total draw from the unit: 3.8 Amps, 20 amp dual outlets (Qty. 2) and power switches are UL listed
Light and HEPA FFU are both UL listed as units, run at 60 Hz
6" power cord